Here are some tools I can heartily recommend to any jigsaw puzzler.
Puzzle Sort & Go! by Ravensburger
I've been in the situation of being stressed even before starting a puzzle because I don't want to lose a piece which is always the worst feeling when trying to complete a masterpiece to show off to friends and family. Owning the Ravensburger Sort & Go is great to sort out the pieces exactly how you want it while making sure you don't lose a piece.
The trays are stackable for easy storage and come in a pack of 6 to make sure you have enough trays to organize how you want your pieces. The trays are made for 1000 pieces or less but can fit a little bigger piece count if you are willing to.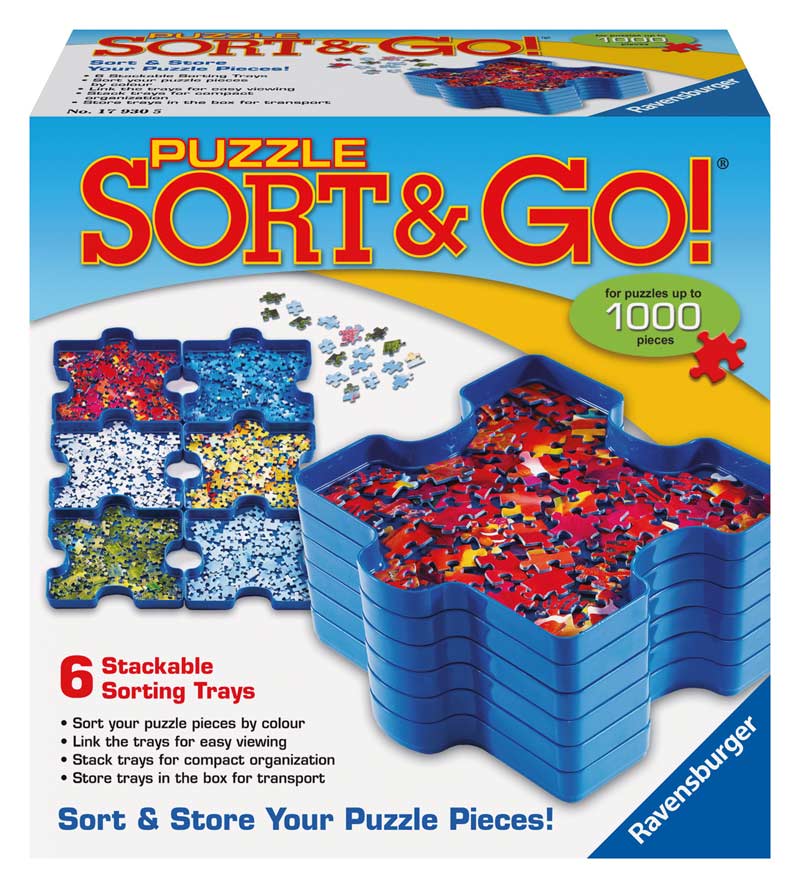 For a long time, my standard MO was to separate out just the edge pieces, do the edge, and then keep the rest of the pieces in a jumble in the box and just sort through by hand and pick out pieces with the color/pattern I was working on next.  I've found, though, that it's not that much more work to layout the pieces face up at the start, separating them into the boxes based on broad color groups or textures.  After that, it's painless to move through the entire puzzle without any more digging around or turning pieces over — EVER!
So!  The Puzzle Sort & Go is very much recommended. I also like the fact that it stacks neatly, so when I'm done with a puzzle for the night, I can quickly pack up the loose pieces to make sure none get lost or stolen by precocious pets.
Some people may not do jigsaws often because they worry that once they're set up, what if they don't want to work on them for awhile? What if guests come over and they need the table?  What if the cat gets into it and pieces are lost? Starting a 1000 piece puzzle can feel like a big commitment.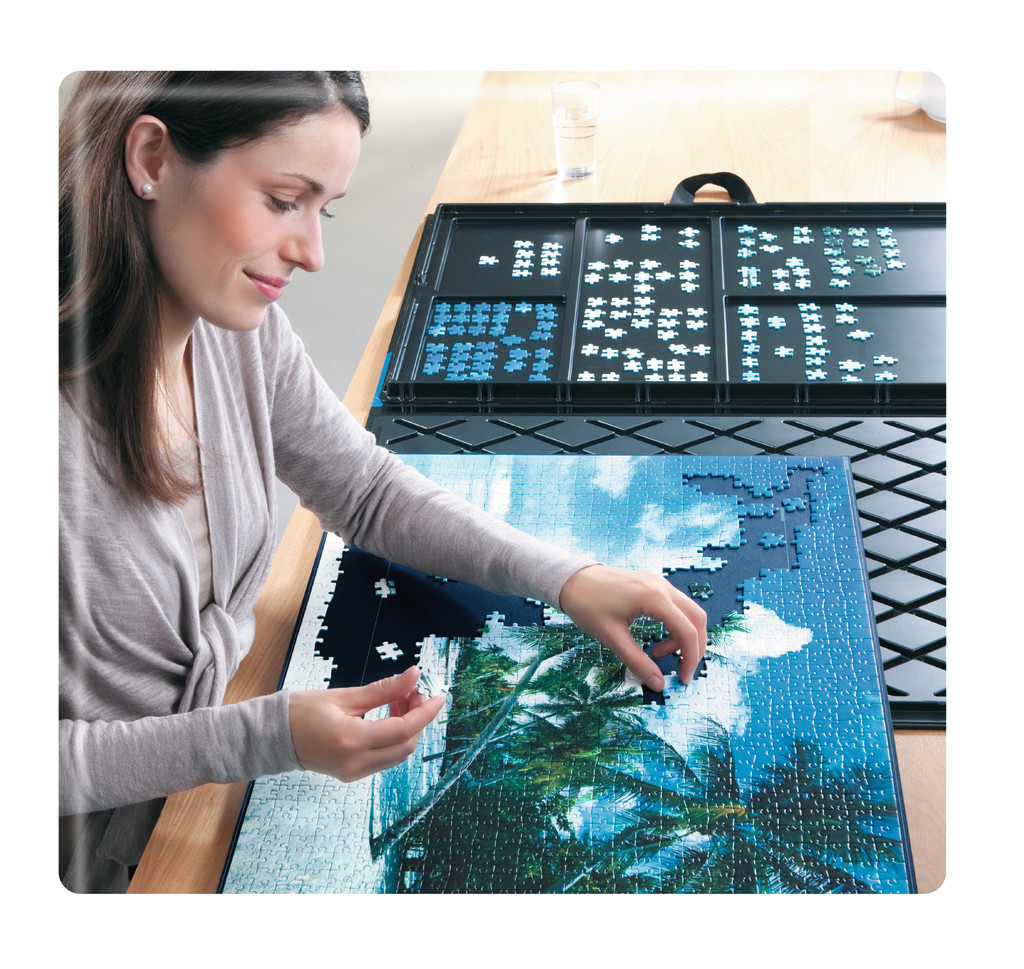 I've used different things over the years to address this.  I have a 4000 piece Roll-O-Puzz that I have in case I decide to tackle one of my huge Heyes.  I've had a wooden puzzle case and a plastic one.  I've tried posterboard. The best thing I've found, though, are the Puzzle Boards from Ravensburger.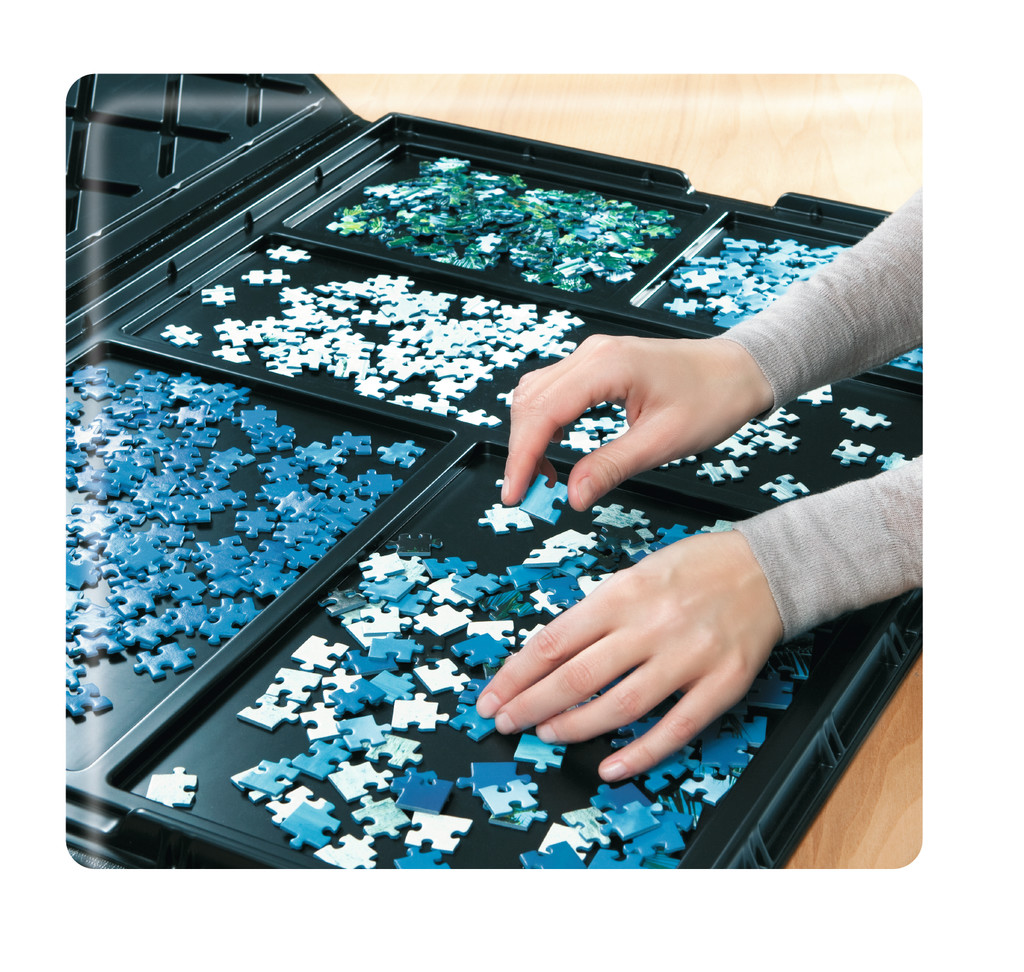 Puzzle Board is very lightweight, so you can easily pick it up and move it around the house if you need the table (just keep it held flat so the pieces don't slide).  It has a lightly sueded gray texture on top so that pieces are gripped a little bit, but still can be slid around.  All around the edge of the board there's a lip so that loose pieces are less able to fall off.  It comes with a sheet of the material with black plastic on one side and the sueded gray on the other, that you can place over the board when you're not using it to keep out the dust and cats.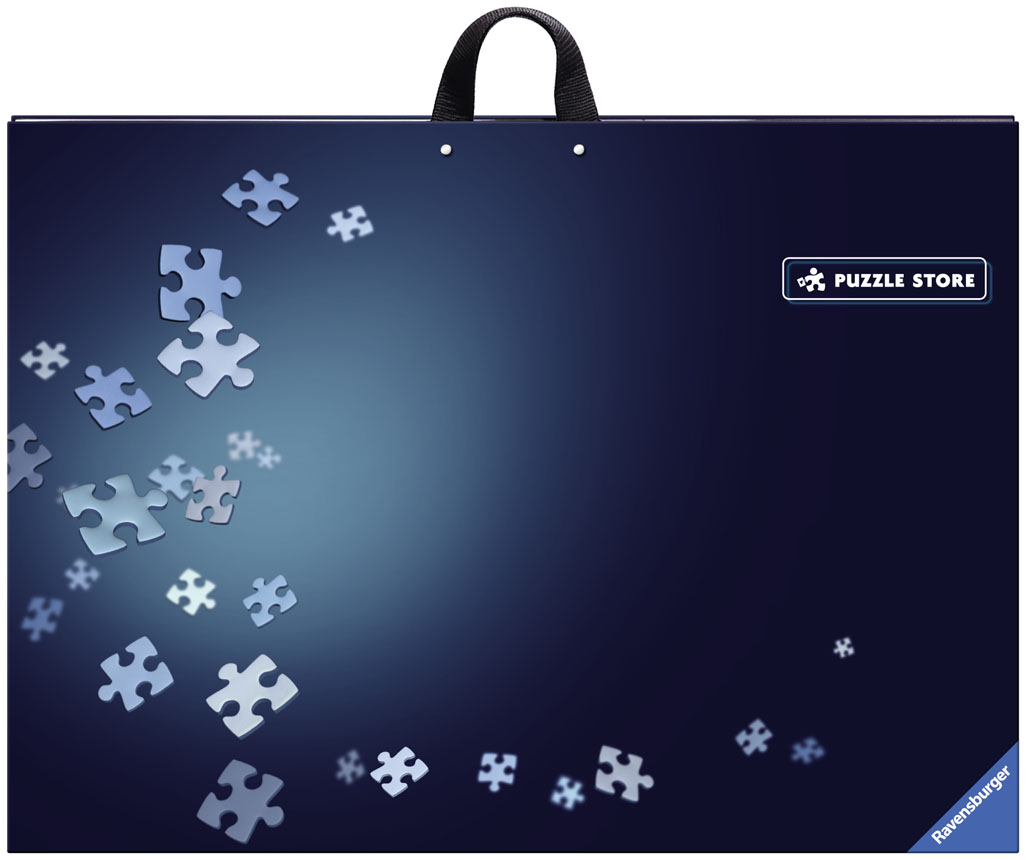 If you get one, consider going up a size from your normal puzzle range, so that you have extra space on the sides to put loose pieces.  The Puzzle Board 1000, for example, accommodates a 1000 piece puzzle without much border left around the edges, but the Puzzle Board 1500 has room for the 1000 piece puzzle and space around it for loose pieces.
After long hours trying to complete a puzzle, I sometimes need help finding the right pieces. The Puzzle Scoop does exactly that. With a built in magnifying lens and LED light, you'll be finding the piece you've been searching for. This is perfect for those that want to do a bigger piece count but can't because of the size of the pieces and it's hard to view. I know after i've stared at the puzzle long enough that my eyes hurt, but I don't want to end there and the Puzzle Scoop helps me complete me.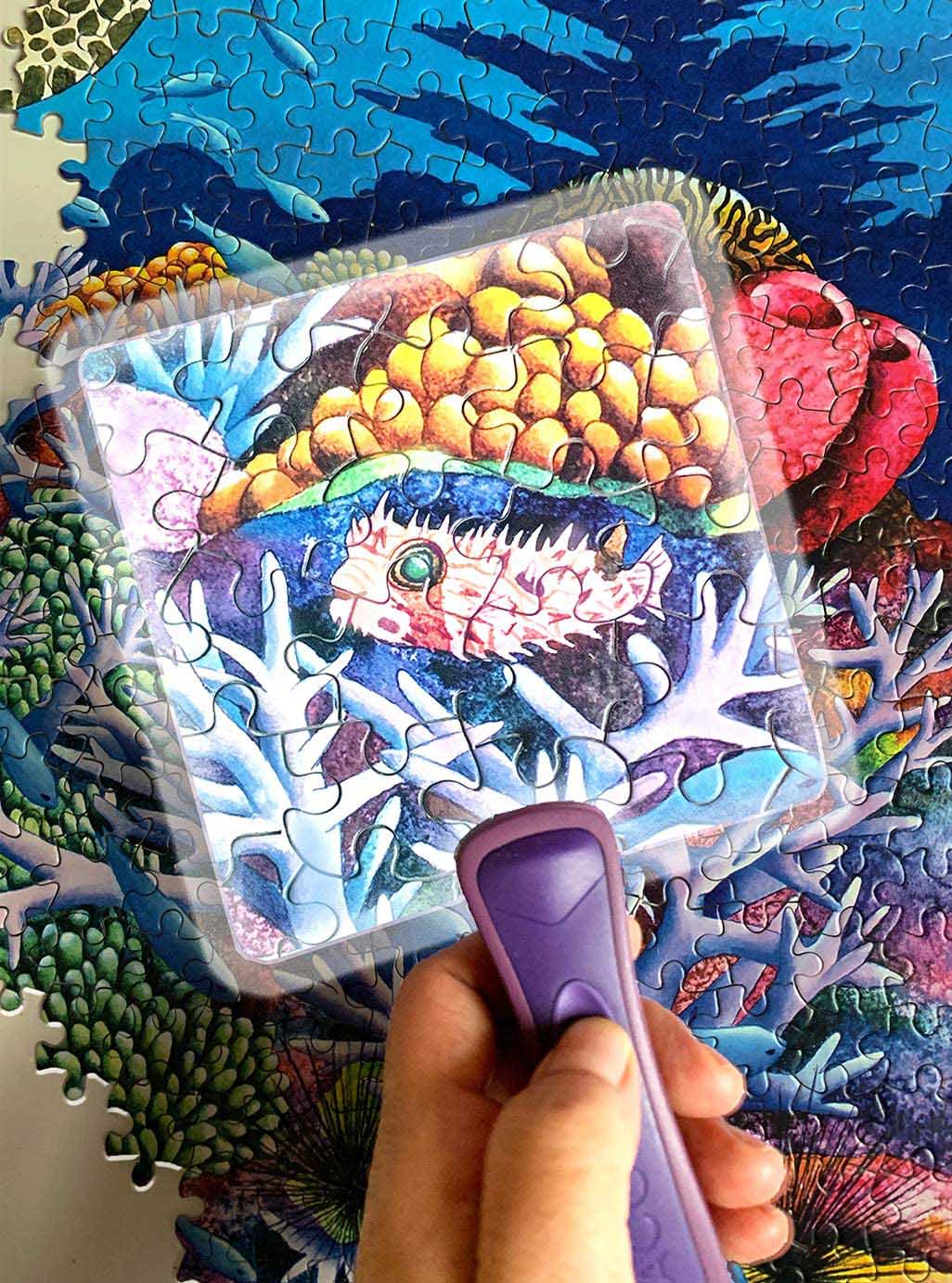 The Puzzle Scoop is also a perfect solution for moving your puzzle. Lift and move the jigsaw section without any trouble. This tool is great for any piece size and can help with the largest or smallest jigsaws.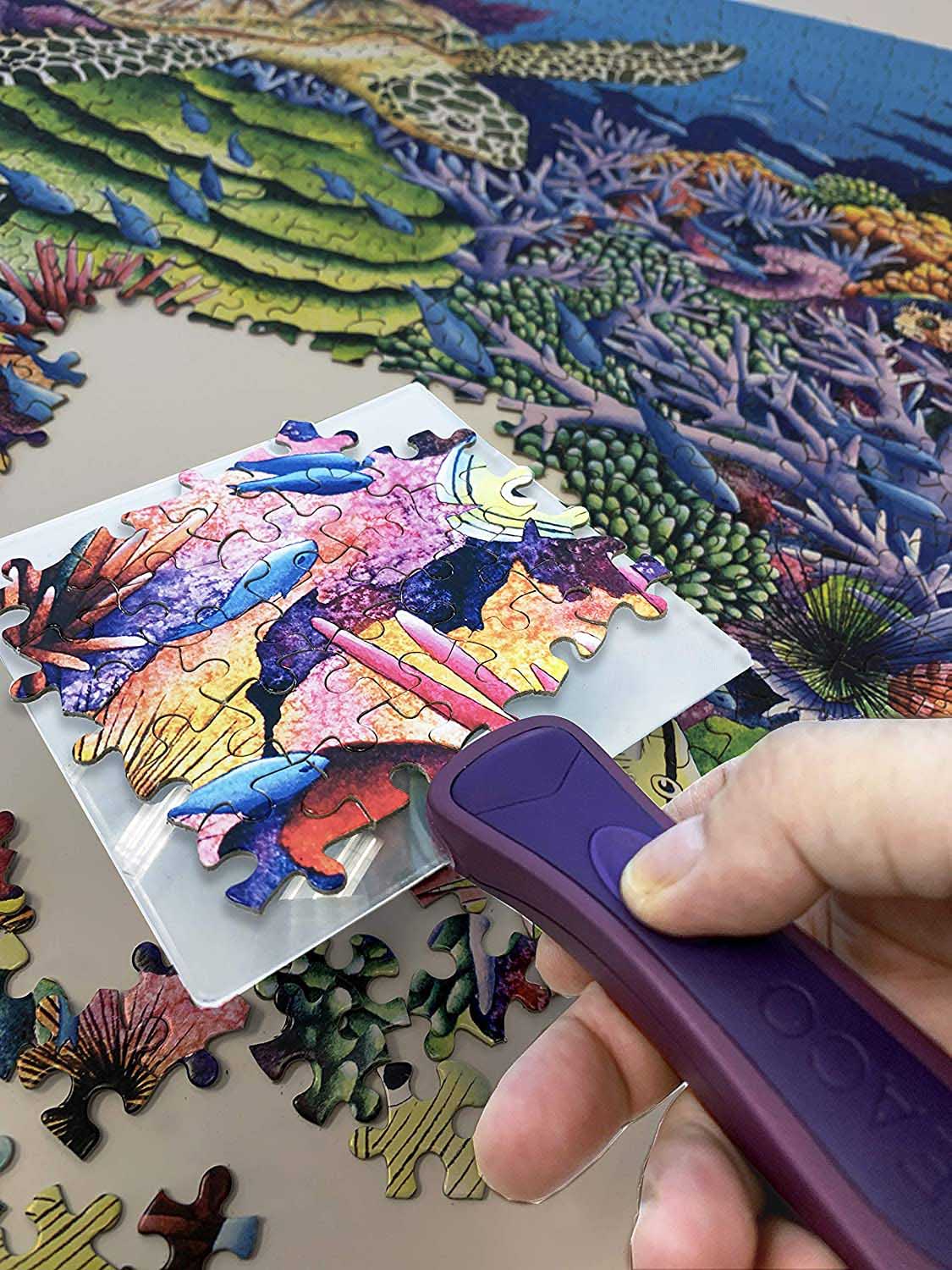 Now these tools aren't for everyone but can help you assemble it with ease. If you are needing more than this or just want something specific then Puzzle Warehouse is just what you need. They have everything from these Puzzle Boards to Glue and Frames. Check them out and let them know that Jigsaw Junkies sent you!
KK